Piazza Navona, Rome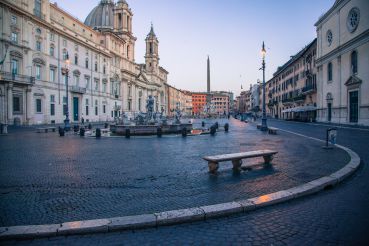 Piazza Navona is one of the most beautiful squares in Rome. It has an elongated oval shape. The Navona Square is always crowded. There are many cafes and restaurants on Piazza Navona. Artists paint pictures, which you can purchase right there. Musicians and dancers often give presentations. On December 1 on the square, the Christmas Fair is opening, which presents traditional Italian treats, presepe (nativity scene) figures depicting biblical scenes. During Christmas Fair on Piazza Navona you can sit with Santa Claus in a carriage, as well as ride a merry-go-round. Here you can meet Befana, often referred to as a Christmas witch.
Attractions on Piazza Navona
Today, as in former times, Piazza Navona is very crowded. On the square you can see:
San Giacomo degli Spagnoli Church,
Palazzo Braschi, which nowadays hosts the museum of Rome,
Palazzo Torres Lancellotti and other sights.
The main decorations of Navona are three medieval fountains — of Moor, of Neptune and the Fountain of the Four Rivers. Historical heritage of this area attracts many tourists, including those who are fond of unique works of art and architectural monuments.
The history of square
In 46 BC, at the place where nowadays Piazza Navona is located, Julius Caesar built the first stadium for the contests of athletes. By an emperor Domitian in the year of 85, the stadium was reconstructed and extended.
In the era of early Christianity, the area served as a city market, the venue for the celebrations. In the 17–18 centuries, in August, during the heat of summer, the square was filled with water. The fountains filled with water the entire area.
Interesting facts
Borromini against Bernini – the rivalry between the two great architects of the Baroque school, which has brought great benefit for Rome.
During the construction of the Church of Saint Agnese, Borromini used an interesting technique – he did the front part of the structure in bend shape. If you look at the dome of the Church from below, it creates the illusion, that the upper part of the Church is tilted forward.
In response, Bernini had depicted the figure of a Moor with an outstretched hand, trying to keep the falling Church, and the other sculpture – with head covered by a coat. That all was so you couldn't see the work of Borromini.
How to get
In order to get from the railway station to Piazza Navona in Rome, take the bus №64 and stop at Vittorio Emanuele station. From the Pantheon, the square can be reached on foot, passing 500 meters and following the signs. From the Castle of St Angelo, you can walk on foot for 15 minutes. To pass along the embankment, cross the Tiber over the bridge Umberto I, then go on Via Giuseppe Zanardelli and come to the Northern part of the square.