Thermal resorts: the Italian secret of youth
5290
Italy can be called the ancestor of the fashionable spa treatments. Even in ancient Rome, while looking for beauty and health the patricians went to the healing springs, that are the treasure of the sunny country. They knew a lot about healing and rejuvenating procedures. And in such places they built thermal baths. These were the real works of art!
Photo source: zom.kz.
The tradition to resort to the magical power of warm mineral waters has survived to this day. After all, Italy, with its large number of volcanoes, is the area of thermal springs! More than 400 thermal springs are scattered throughout the various corners of the Italian "boot". These are famous resorts with modern hotels, where they offer a lot of balneological procedures.
Photo source: selfmadetrip.com.
For example, the springs of Ischia and Sardinia islands are very famous. The thermal regions are such provinces as Lombardy, Calabria, Basilicata, Liguria, Lazio, Abruzzo. And you should go to the south of the country for mineral waters enriched with bromine, salts, iodine. And what is interesting is that the treatment with thermal waters is not always very expensive. Italians are very hospitable and there are also free thermal springs, where you can have a rehabilitation for a nominal fee.
Ischia Island
The largest island resort in Italy. It is literally covered with hot springs of volcanic origin. For example, only on the territory of the National Park "Poseidon Gardens" there are more than 20 thermal springs! It is one of the largest thermal resorts of the island. Fumarole and Sorgeto are the free thermal springs.
Photo source: italiatut.com.
Healing properties: joint diseases, skin diseases, helps to normalize metabolic processes and much more. On the island you can also buy cosmetic products enriched with thermal waters.
What is nearby: the island is full of attractions. For example, you should visit Aragonese Castle or the Ravino Gardens.
How to get there: it is the most convenient to fly there by plane to Naples, from there the boat goes to the island.
Where to stay: if you are looking for a suitable hotel for your holiday in Ischia – take a look here.
Monsummano Terme
Imagine a fabulous underground city populated with stalactites and stalagmites that are frozen for eternity. And the underground lake, bubbling over with steam... This miracle of nature was discovered relatively recently. Famous Tuscany poet accidentally discovered the 300 meter cave on the territory of his estate. Now the grotto carries his name – Giusti, and many tourists come here every year for rehabilitation.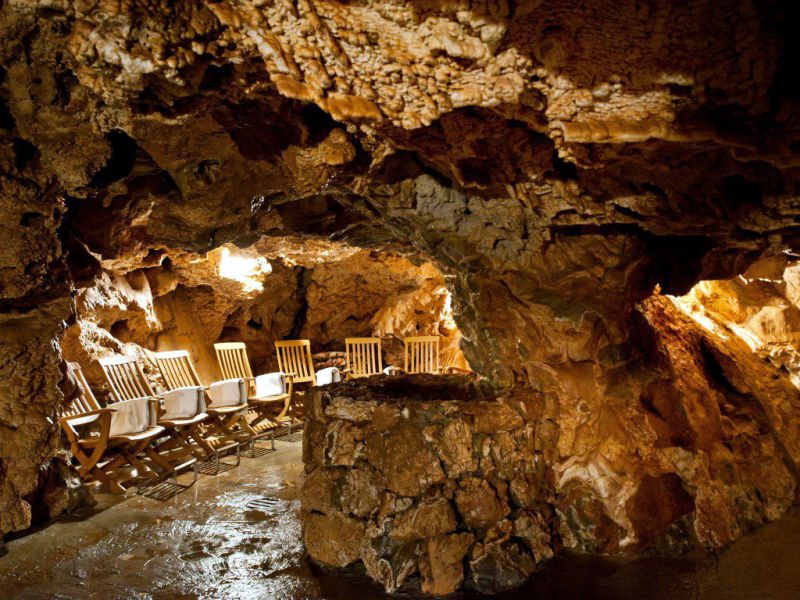 Photo source: orangesmile.com.
Healing properties: cough, bronchial tubes, lungs, joints. It is believed that in one session you can cleanse the body of toxins.
What is nearby: interesting cities – Lucca, Pisa, Florence, Carrara, Siena.
How to get there: by plane to Florence or Pisa, then you can take a train or a bus.
Fiuggi
Water, which crushes stones – that is what people say about the healing properties of the local mineral waters. Even Marcus Aurelius and Nero chose this place as a summer residence, having ordered to build magnificent villas.
Photo source: amarc.ru.
Healing properties: Fiuggi is considered to be an urological resort where they help to cope with urolithiasis. The therapeutic course includes drinking of mineral water.
What is nearby: Castle Fumone, from the roof of which on a clear day you can see Vesuvius. The road to the Tyrrhenian Sea will take an hour.
How to get there: the resort is 80 km southeast of Rome, where you can fly by plane. After that – by train, for about an hour.
Where to stay: to fill your relaxation and treatment in Fiuggi with positive emotions, you should choose a hotel in advance. Look for a suitable place among these options.
Bormio
Bormio is a beautiful medieval town that has become a famous resort. Its peculiarity is the combination of mineral water springs, SPA centers with ski holidays. There are two baths, which were created in the era of ancient Rome in this resort. Two thousand years ago travelers were settling here, while descending through the mountain pass.
Photo source: voyager.ge.
Healing properties: diabetes, metabolic disorders, joint injuries. People come here to "find" beauty and get rejuvenating procedures.
What to see: since it is a ski resort, in summer it is possible to make mountain hikes, and in winter – to ski.
Where to stay: Bormio is a popular resort, so you should take care of the accommodation in advance. And here's a link to help you.
How to get there: The nearest airport is in Milan. From there you can take a train to Tirano, then take the bus. The way takes about 4 hours.
Sirmione
An ancient city, in which the patricians loved to spend their vacation. Even during the Roman times, at the bottom of Lake Garda the water sprung through lead pipes.
Photo author: Oleksandr Cheban.
Healing properties: thanks to the unique combination of sulfur and iodide-bromide salts in Sirmione, it is possible to improve the skin condition, heal the cardiovascular system, normalize the work of the respiratory system, and get rid of rheumatic pain.
What to see: ruins of the ancient villa "The Grotto of Catullus", the Castle of Scaligero, picturesque Lake Garda, Church of Santa Maria Maggiore with frescoes from the 15th century.
Where to stay: going to Sirmione? You can search for the best place to stay here.
How to get there: the nearest airport is in Verona. Then it is more convenient to go by bus. You can also take the train, but the nearest railway station is 10 km from the resort.
Abano Terme
Byron, Shakespeare, Goethe, Mozart, Petrarch. Many celebrities visited this legendary resort. The settlement, which, according to legend, was founded by Hercules himself, was always popular among bohemia. Now the resort is one of the largest mud-bath complexes in the world. Local waters descend to the resort from the Alpine peaks, and the water temperature is 75–87 degrees.
Photo source: mdtur.com.
Healing properties: diseases of the joints, respiratory system. Mineral water is prescribed for skin diseases, gynecological problems. The vacation at the resort has a beneficial effect on the nervous system.
What is nearby: Venice, Verona, Padua. The famous islands of Burano and Murano are worth visiting.
How to get there: the nearest airport is in Venice, about 40 km away. After that – you can take a bus.
Where to stay: here you will find a large selection of hotels with spa treatments.
Montecatini Terme
This is one of the most famous thermal centers of Tuscany, which boasts eight springs. Here you can take healing mineral baths and take a course of mud therapy.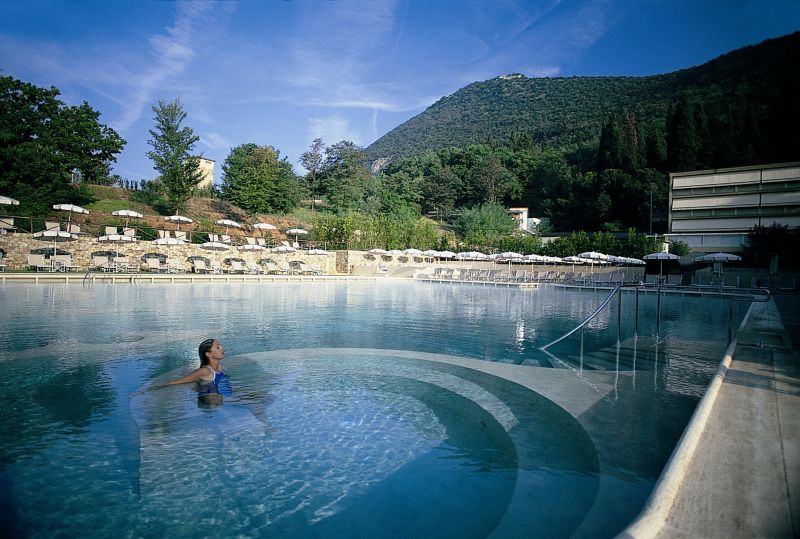 Photo source: aksancha.wordpress.com.
Healing properties: normalizes the work of the gastrointestinal tract, heart, respiratory organs, helps with joint pain, treats skin diseases.
What to see: a small village of Vinci, where the great painter Leonardo da Vinci was born.
Where to stay: you can find several cozy hotels on this link.
How to get there: by plane to Pisa or Florence, then by train or bus.
Acqui Terme
Healing properties of local springs were used by Roman legionaries. The composition of the local water is similar to the sea. It is rich in salts, iodine and bromine. In the city there are two famous thermal springs. Pavilion "Bollente" and "Lake of Springs". They are open all year round, except January.
Photo source: hdimagegallery.net.
Healing properties: diseases of the musculoskeletal system, the nervous system, helps improve the functioning of the heart and lungs.
What is nearby: ancient Alexandria, as well as medieval monuments of architecture.
How to get there: The nearest airport is in Genoa, then you can change to a train or a bus.
Where to stay: you may be interested in getting acquainted with such accommodation options.
Sicily: volcanic thermal springs
Once on the beautiful island of Sicily, you should hurry to one of the most famous archaeological centers – the city of Segesta. In this district there are springs of volcanic thermal waters. How about swimming in water, heated up to 47 degrees by a volcano?
Photo source: iusnova.it.
What is nearby: Segesta is an ancient city with ancient history and a lot of archaeological monuments.
How to get there: fly to Palermo, after that take a train to Trapani, then a taxi or a bus.
It is worth mentioning that mineral springs and therapeutic mud used unreasonably can bring not only benefit, but also harm. So, before going to have rehabilitation, you should see a doctor! Or take advice from specialists at the resorts themselves.
If you liked the article, tell your friends :)