15 must-try dishes in Italy
99088
Italian cuisine is famous worldwide! Through the centuries Italian chiefs had been mastering their skills to achieve the highest level possible. As a result, nowadays, people all around the world can try Italian delicacies practically in any corner of the Earth. But to taste the true masterpieces of Italian culinary art you should go to Italy, of course! There's one thing to remember while going to Italy for a gastro tour – different dishes are typical for different regions. So, to learn the true taste of a particular dish, you better travel to the place of its origin in Italy.
Not to get lost in the variety of Italian delicacies and places IGotoWorld.com has prepared a "Must-Try" list which includes 15 dishes you can't help trying in Italy.
Pizza
Pizza is a traditional Italian dish, which is also considered one of the most popular dishes in the world. In total, there are about two thousand types of pizza in Italy. The most popular ones are: "Margarita", "Marinara" and "Four Seasons".
It's interesting to know that in past times pizza used to be the food of poor people. Only due to King Ferdinand II who lived in Naples and extremely loved pizza, it started to be served to the royal dinner tables. So, this is the city you can taste best Italian pizza ever.
Photo by: ciritornopontedera.it.
Lasagna
Lasagna looks like a layered cake. To cook it they use flour of durum wheat. The layers of dough go in turn with the layers of meat, mushrooms or vegetables along with Bolognese sauce and sprinkled with Parmesan cheese. There are also some other types of this dish.
The motherland of lasagna is Bologna, and this is the place where one can try its best receipt.
Photo by: rondinella.it.
Risotto
Risotto is one of the most beloved dishes of all Italians. The base for it is rice. Lombardi is the region where the best risotto is cooked. We highly recommend you to try Risotto alla Milanese. The main feature of it is saffron which colors the rice yellow and adds an incredible taste tint.
Photo by: plus.google.com, by Patrik Vogl.
Gelato
Gelato is an original Italian dessert with a unique taste, the real pride of the national cuisine. The base for this dessert is milk, low fat creams and lots of sugar. A special fragrance and taste are created by different supplements like fruit puree, grated nuts, chocolate and berries.
Gelato is cooked in small lots and it shouldn't be stored for a long time as it tastes better when fresh. It is served cooled. Only specially taught people – gelato-makers – can create such a sophisticated delicacy.
The dessert itself is mainly sold and served in gelaterias where you can go crazy from the wide variety of kinds and tastes. Gelato is considered to be world's tastes ice-cream. Best gelaterias of its kind are located in Rome. The first one was opened in 1800.
Photo by: romeing.it, by Marit & Toomas Hinnosaar.
Prosciutto
Prosciutto or uncooked jerked pork ham is extremely popular in Italy. It is served as a cold cut, an appetizer before lunch or dinner. It tastes good with white bread, figs, asparagus, melon and other products. It is also added into different salads. The most famous kinds of prosciutto are the ones from Parma and San-Daniele prosciutto.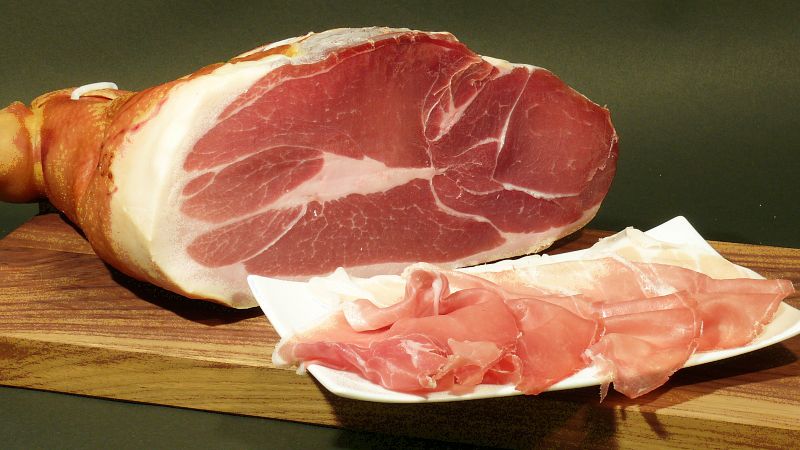 Photo by: oggiaparma.it.
Tiramisu
Tiramisu is a delicious Italian dessert famous worldwide. But only in Italy you can try the original tiramisu. Cooked in the place of its origin it has an absolutely unique taste. Gentle, air, coffee dessert is a real wonder of Italy.
Photo by: cuocoperamico.it.
Pasta alla carbonara
Pasta alla carbonara is an original dish of Lazio region of Italy with Rome in its centre. The dish used to be the most common one among Italian miners due to its easy receipt and cheap components. Step by step the dish has become a beloved delicacy far beyond Italian borders. Nowadays pasta alla carbonara is popular all over the world. But to try its best version you should go to Rome.
Photo by: en.wikipedia.org, by Mattes Boch.
Cannoli
Cannoli is a traditional dessert of Sicily and all the southern regions of Italy. In past times it was cooked only for carnivals, but now it's eaten all year round. Crispy pipes are filled with a special filling right before to be served to avoid the dough's softening. No wonder, these crispy pipes with sweet creamy-cheesy filling have become a beloved delicacy not only in Italy.
Photo by: scattidigusto.it.
Minestrone
Minestrone is a classical Italian soup which consists of fresh season vegetables. The number of vegetables is unlimited. The more you have the better the taste will be. Rich, thick, and beautiful soup is one of the most wide spread dish all around the country.
Photo by: recetasd.com.
Zabaione
Zabaione – classic Italian dessert – which is similar to an air mousse with fine structure and strong vine smell. Traditionally it is served with savoiardi or biscotti (biscuits).
Photo by: nonnapaperina.it.
Cacciucco
Cacciucco is a seafood soup, made of fish broth, red vine and tomato juice with the adding of molluscs, crustaceans, different sorts of fish. There is a tradition to add as many sorts of fish into the soup as the number of letter "c" in its name, which is five. The consistency of the soup is similar to goulash.
Cacciucco is especially popular in Livorno, Toscana.
Photo by: cuisinedecheznous.net.
Тortellini
Тortellini has something in common with ravioli. They are made of unleavened dough with the adding of spinach and tomatoes. Chicken, ham or mortadella (sausage) are used for fillings, sometimes they also use parmesan or ricotta. They are served with souse or in broth.
The motherland of the dish is Emilia-Romagna. In Bologna it is cooked and served with a special pride. Locals even find their shape similar to a rosebud.
Photo by: scattidigusto.it.
Panino
Panino imbottito is interpreted as "a small bun" from Italian. This sandwich is a beloved snack of all Italians. Unlike other sandwiches panino is covered with bread by both sides. To cook it they take Italian bread ciabatta, add some filling and grill it. The fillings can be different, but the classic type includes: mozzarella, ham, tomatoes, pesto sauce and basil, of course.
Photo by: multicash.it.
Caprese
Caprese, a light snack salad is another national Italian dish. This is a kind of antipasto, consisting of tomatoes, mozzarella, olive oil and basil. The combination of its colors is similar to the ones on Italian flag. Maybe that's why it is so popular among the citizens of the country.
The salad got its name due to the place of origin – the island of Capri, where it is considered to be a local heritage.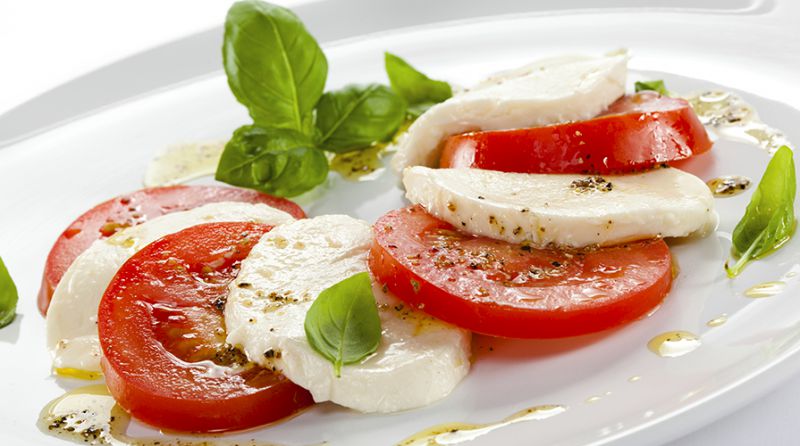 Photo by: artessenza.it.
Panna cotta
Panna cotta is a delicious dessert of cream, sugar and vanilla. The Italian city of Piedmont is the place of birth for this extremely popular delicacy. The traditional panna cotta is of white-creamy color, but sometimes chocolate or fruit syrups are added. It is served with berries and slices of fruit. This wonderful dessert is also ordered for romantic or holiday dinner.
Photo by: toscanarestaurant.ie.
Only a small part of Italian cuisine is described in the list. The accurate number of Italian dishes is a thing nobody will ever be able to calculate. Nobody knows how much of them there are, but everybody knows they are world's best.
Visit sunny Italy and enjoy all the richness of tastes provided by Italian chefs! Feel the smell of Italian cuisine and die from love to this generous country which gave birth to one of the best cuisines in the world.
If you liked the article, tell your friends :)