Attractions in Naples: 15 places to see
6041
While planning a visit to sunny Italy definitely include Naples, the city on the south of the country, in your trip after spending time in bustling and ancient Rome, shopping for labels in Milan and enjoying rides on gondolas in Venice.
Here you will encounter very interesting and memorable attractions of Naples. This old port city will help you discover the real truth of the southern coast and treat you to the most delicious pizza and calzone in the world!
Main sights in Naples
There are many valuable historical and cultural landmarks in Naples that can be found in UNESCO World Heritage Sites list. This city can impress visitors with its diverse beauty and color, the tastiest pizza in the world, exciting people, mesmerizing yet frightening natural phenomena. Millions of tourists come to Naples every year, and IGotoWorld was no exception. After visiting this great city, we selected places in Naples you just have to see.
Vesuvius
While heading to ghost town Pompeii, I decided to see the giant that has been keeping the entire coast on edge for a very long time.
See how fearless you are! The volcano has been sleeping for the past 70 years that's why you should take advantage of this once fire-breathing dragon's sleep, get up to its crater and peek into its maw.
Vesuvius is the only active volcano on the mainland of Europe. Throughout its history, it had more than 80 major eruptions. Today, thanks to filmmakers and painters, the world knows one of the most terrifying outbreaks in 79 AD that claimed thousands of lives and destroyed several cities, such as Pompeii and Herculaneum.
How to get to Mount Vesuvius
The volcano is located in 15 km from Naples in Campania, in the south of Italy, on the coast of the Gulf of Naples. Coordinates (Google Maps): 40.8224, 14.4289.
There are several ways you can get to Vesuvius, let's go through the basic options.
By car – follow A3 «Naples-Salerno» highway right to the Torre del Greco or Ercolano exit. It is recommended to come here before the opening or at least before 10:00 since all the spots both on the parking lot and roadside and are taken.
By bus – EAV buses travel from Naples. They depart from Piedigrotta that is situated near Napoli Mergellina railway station. The ride takes from 50 minutes and up to one and a half hours.
By train (the most common way) – local trains depart from Piazza Garibaldi Station (Napoli Centrale), the line is called Circumvesuviana. It is located separately from the main lines on the underground floor; you can also find ticket offices there. You won't have trouble finding them if you follow the signs. Be sure to take into account where the trains are headed to, your end destination should be Sorrento. You can catch a train every 20 minutes.
Time of departure: buses that go to Vesuvius operate from 09:00 till 11:45, those that return back to Naples – from 12:30 till 15:30. You can find train schedule here.
Charge: a round-trip ticket for EAV bus costs 6,20 euros.
Since Piazza Garibaldi station of the Circumvesuviana line is not the last stop, all the seats might be taken. If you would like a more convenient way to get there, then go to Porta Nolana station. It is not as busy and located only a few minutes away from Piazza Garibaldi. A one-way ticket costs 2,90 euros.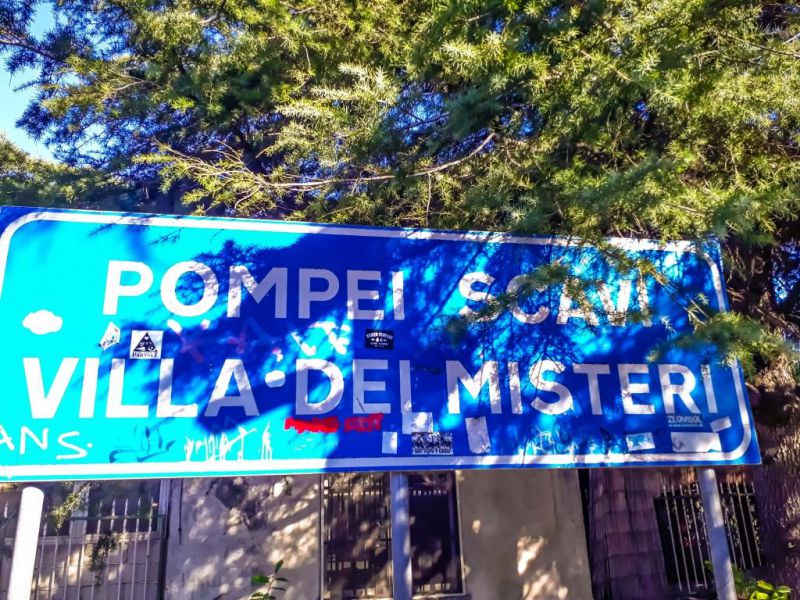 You can get off on two stations, let's give it a more detailed look.
Ercolano Scavi station (ruins of Herculaneum). If you get off here from the left side, walk 10 meters, you'll encounter Vesuvio Express Bus office (more info here). Their buses take tourists to almost to the top of Vesuvius, the ride can take around 30–40 minutes. Once you arrive, the driver informs everyone about the return time (approximately in 1 hour 20 minutes). Then you are left with only one thing – climbing up on foot (the distance is approximately 1 km).
Pompei Scavi-Villa dei Misteri station. When you get off at this station, right away you will be offered a few options on how to get to the top of the volcano. The buses will take you to the same stop described earlier.
Those who like comfort have an alternative available for them. In 2018 Campania Express has its trains operating from March 11 till October 14 during the high season. The tourist route includes Pompeii, Herculaneum, and Sorrento. These comfortable trains boast guides who will consult you during the ride and monitors with information about the current tour.
Opening hours of Mount Vesuvius National Park:
From November to February from 09:00 till 15:00.
In March and August from 09:00 till 16:00.
From April to June, also in September from 09:00 till 17:00.
From July to August from 09:00 till 18:00.
Admission: adult ticket costs 10 euros, reduced one – 8, kids under the age of 8 are free of charge. The average cost for a round-trip ticket on a train is 10 euros. Ticket price for Campania Express train is 15 euros.
Pompeii
Next must-visit place is once a great and prosperous city of Pompeii. Here you can experience the eternity, feel like a speck in this boundless universe, look behind the curtain of time and picture what life was like during the early days of the whole epoch. There it is – the town that became the victim of the local bandit, Mount Vesuvius.
When walking down the narrow streets, entering wrecked houses, you try to guess who could've lived here.
What are those strange things that survived to this day in their homes, where the main tavern was set – you search for hints, peep into every room and corner.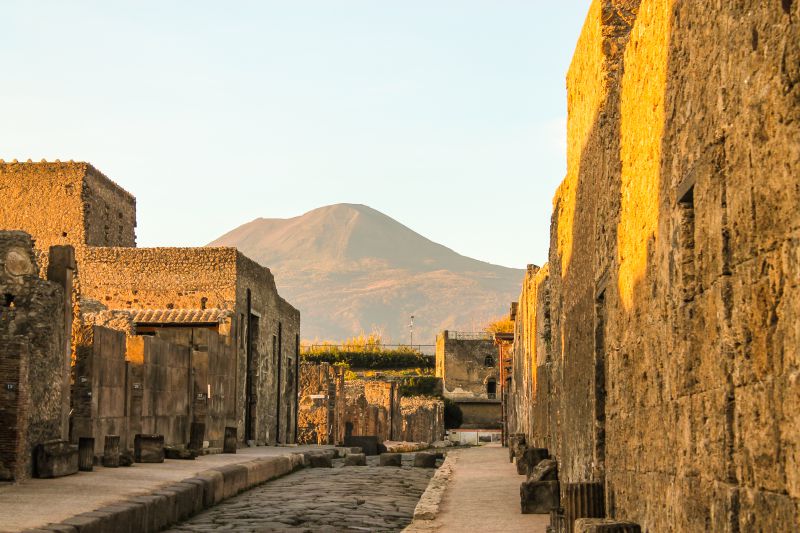 Then your imagination starts to run wild and add missing details, and you dive deep into the ancient times.
It's a shame you can't find all the things that survived since they were transported to the National Archaeological Museum of Naples.
How to get to the historical complex of Pompeii
By bus – Sita bus will take you to Pompeii. You can catch it at Monte Sant Angelo stop or at Piazza Garibaldi every 30 minutes. The ride takes around 40 minutes.
By train – we have already described earlier how to get to Pompei Scavi-Villa dei Misteri station of Circunvesuviana line. Once you get out of the train, the first thing you will hear barkers trying to sell you tickets for 12 euros but since we only trust official places, we decided to turn to the ticket office of the museum and purchase tickets for almost the same price there.
Since Pompeii is a city, it has 5 different entrances on every side. Porta Marina station (Pompei Scavi – Villa dei Misteri) is the closest one to the railway station.
Opening hours:
April – October: 09:00–19:30 (from 08:30 on weekends).
November – March: 09:30–17:00.
Admission: adult ticket costs 13 euros. By the way, tourists that would rather save money can visit the place on the first Sunday of the month as the museum of Pompeii offers free entry for everyone on that day!
Palaces, fortresses, and castles of Naples
Castel dell'Ovo
Having made several terrific photos I hurried to the downhill for new experiences and memories.
This is the exact place where Naples was founded. The castle is located at the shore of the Tyrrhenian Sea. This architectural monument is, first and foremost, unusual for its history. Castel dell'Ovo can be translated as an "Egg Castle". Legend has it that Naples will never cease to exist as long as this castle is standing. Supposedly, there is a magical egg of poet Virgil kept somewhere in dungeons, and if it brakes, then both the castle and Naples city will collapse.
While wandering inside the castle, you can't really resist peeking into every corner – what if it is true and you will find a vessel with ancient egg? We never found it though, but we did enjoy the charming view of the gulf and city panorama, feel the fragrance of antiquity and medieval flair.
How to get to Castel dell'Ovo
Address: Via Eldorado 3.
By bus – № С25 that you will find on any map of Naples. The stop you need is Via Partenope.
By subway – take subway to Toledo station and just walk down the narrow streets to the waterfront. You can also visit Galleria Umberto I and Royal Palace as well as see city's central square Piazza del Plebiscito.
Opening hours: the castle is open from 08:00 till 19:00 on weekdays, from 08:00 till 14:00 on weekends and holidays.
Admission: free.
Royal Palace of Naples (Palazzo Reale)
It is nearly impossible to describe how luxury this palace is but I will still try to convey that little fraction of the beauty I discovered in Palazzo Reale. Marble stairs that are, dare I say it, absolutely epic, greets and guides guests to royal rooms. Here halls are decorated with tapestries, gilding, frescos and original paintings of the 17th and 18th century. Ballrooms are ready to accommodate city's nobility and impress you with its richness, pomposity, and opulence.
The construction of the palace began back in the 17th century and lasted more than 50 years! It was the architect Domenico Fontana who had the honor to design and build the Royal Palace of the Bourbon Kings of the Kingdom of the Two Sicilies.
Currently, the building houses various facilities, National Library and National Archaeologic Museum take up a part of the palace as well.
How to get to Royal Palace of Naples
Address: Piazza del Plebiscito, 1.
By subway – Toledo station, line 1.
By bus – you can catch bus R2 at Napoli Centrale railway station. Get off on San Carlo stop.
Opening hours: daily from 09:00 till 20:00, except for Wednesday. The ticket office closes one hour earlier.
Admission: 4 euros (audioguide is included). The entry is free on the first Sunday of the month.
Castel Nuovo
Once you're done with the pompous Royal Palace of Naples, I recommend you to come to Castel Nuovo and wander there for a few hours. It was commissioned by Charles I of Anjou since he decided to move his royal residence to the new capital – sunny Naples. The castle had begun in 1279 and lasted for three years. This ancient fortress shaped like a pentagonal trapezoid with protruding towers on every corner and massive immensely thick walls surrounding it. These walls were meant to defend the royal family from invasions. Curious visitors can also access monarchs' chambers, Palatine Chapel, and the museum. The highlight of the fortress is considered to be the Baron's Hall that has been witnessing many significant events till 2006 and still holds numerous secrets inside.
How to get to Castel Nuovo
Address: Via Vittorio Emanuele III.
By bus – C25, N1, N2, R2, Piazza Municipio stop.
By subway – line 1, Municipio stop.
Opening hours: daily from 09:00 till 19:00 and till 14:30 on Sundays.
Admission: 6 euros, guided tours cost 10 euros.
Porta Capuana
Porta Capuana has been the main city gate of Naples since 1484. For a long time the place was enclosed by defensive walls, but later on, they were destroyed, and only gates survived to this day. While observing Porta Capuana, you can notice that medieval power and elegance of the Renaissance, that very contrast we've seen at Castel Nuovo before. The attraction is easily accessible, all you need is walk down to it from the central railway station which will take 10 minutes.
How to get to Porta Capuana
Take the subway to Garibaldi stop. Simple as that.
Castel Sant'Elmo
Towering above the whole city the castle can be spotted from any part of Naples; it also offers a stunning view of the gulf and the surrounding area. Once I got up on the observation deck of Castel Sant'Elmo, I was swept away; the beauty of the city panorama at the bird's-eye view has captured me completely.
After enjoying the glory don't forget to check out this quite big medieval castle. Currently, you can visit Art and History Museum as well as Charterhouse of St. Martin. Originally its function was meant to be defensive; that's why the walls were made out of tuff which made them harder to destroy. Any access to them was prevented by a vast moat filled with water – to cut a long story short it is not easy prey.
How to get to Castel Sant'Elmo
Address: Via Tito Angelini, 22.
You can take the subway to the Vanvitelli stop.
You can also get to the top by using the Montesanto Funicular.
Opening hours: daily from 08:30 till 19:30. The museum is open from 09:30 till 17:00 every day, except for Tuesday.
Admission: adult ticket will cost 5 euros, reduced one – 2,5 euros. On Tuesdays, you can purchase a regular ticket for only 2,5 euros. Entry is free for EU citizens under the age of 18.
Other interesting attractions in Naples
Piazza del Plebiscito
Piazza del Plebiscito is the heart of Naples, the biggest and most important city square. Royal Palace and Basilica of San Francesco di Paola can be found here. The square is closed up with Palazzo Salerno and Palazzo della Prefettura. The amount of architectural constructions per square meter is just too high, so that is why it is your next must-visit place.
How to get to Piazza del Plebiscito
Address: Piazza del Plebiscito.
Take the subway to Toledo station and then just walk down to the square.
Galleria Umberto I
When you're done enjoying the beauty of the Royal Palace and basilica don't leave yet so that you won't miss another unique handiwork created with the help of man's imagination. After you cross the road at Piazza del Plebiscito and turn to the right a fancy building, probably, the most fascinating one in Naples, will emerge before you. Meet Galleria Umberto I! Galleria Umberto I was opened to the public in 1891 and named after the king that ruled over Italy at the time. The building is basically an intersection of two narrow streets with glass dome crowning it and floor paved with marble mosaics and depictions of zodiac signs. The façades are framed with statues made of marble and plaster carvings. The first thing I did was to go look for my sign. Finally having made a good photo at the tenth attempt since some parts of inside façades were under the reconstruction I dived deep into the world of shopping which is what I recommend you to do as well at Galleria Umberto I.
How to get to Galleria Umberto I
Address: Via San Carlo, 15. You can read on how to reach the square above.
Admission: free.
National Archaeological Museum
This is one of the most interesting must-visit museums. However, I recommend you to come here after checking out Pompeii – this way you will understand more deeply what you see.
National Archaeological Museum offers unique ancient exhibits brought from all over Italy many of which were dug up from buried in the ashes of cities that suffered from Vesuvius volcano. Everything inside breathes with antiquity, pieces date back to 2 BC and 79 BC. Everything I pictured myself in all of those abandoned houses of the once great city of Pompeii, appeared before me on museum's shelves. Egyptian exhibits are the most significant part of museum's collection. I also want to mention another quite exciting hall that was opened not so long ago – the Secret Cabinet that features explicit and erotic pieces.
How to get to the National Archaeological Museum
Address: Piazza Museo Nazionale, 19.
You can take the subway to Museo stop (L1) or to Cavour stop (L2).
Opening hours: every day from 09:00 till 19:30, except for Tuesday.
Admission: adult ticket costs 12 euros, reduced one – 6 euros. Entry is free for people under the age of 18. More additional information is available on the official website.
Religious landmarks
Basilica of San Francesco di Paola
After walking in the blazing sun on Piazza del Plebiscito, you run to hide from its beams under the long colonnade and then head to the entrance of the main Naples basilica. Sumptuous interiors and decorations can impress even a sophisticated traveler. Do I recommend to visit this place? Are you kidding? I insist you do! The building was constructed in 1836 by order of King Ferdinand I and was supposed to be a token of gratitude for a successful attempt to reclaim his throne.
Basilica's elegant architectural design and luxurious interior decoration are what draws tourists' attention. This fine example of Italian Neoclassicism will stun you with its majestic dome that strongly resembles the one in the Pantheon and a colonnade of 38 columns. The chapel on the right is dedicated to the Eucharist. It has an altar that is crowned with the image of Saint Francis and made out of marble of different colors dating back to the 18th century.
How to get to the Basilica of San Francesco di Paola
Address: Piazza del Plebiscito. The route to this place is explained above.
Opening hours: every day from 08:30 till 19:30.
Admission: free.
Naples Cathedral (Duomo di Napoli)
It is also known as the Cathedral of Saint Januarius (Duomo di San Gennaro). Saint Januarius has been considered as a patron of Naples since ancient times. The construction of the temple lasted for many decades, and it was finally finished in the early 14th century. The cathedral is situated on a pretty narrow street and is tightly squeezed between two other buildings. Its blindingly white rises up from the haze of a dark street as if saying that you came to the sanctuary of light, warmth, and love – quite symbolic, actually.
Naples Cathedral keeps the most important relic of Naples and the temple itself – a vessel filled with the blood of Saint Januarius. You can have a look at this artifact twice a year, it is put on display for believers on the first Saturday of May and September 19. It is inexplicable, but the blood starts to boil and becomes a liquid. According to the legend the blood was collected by a Christian woman after martyr Januarius was put to death by order of Emperor Diocletian.
How to get to Naples Cathedral
By subway – get off on either Cavour station (L1) or Museo station (L2).
By bus – take the bus 202 or R2 to Piazza Garibaldi-Mancini stop.
Opening hours:
Monday – Saturday: 8:30–13:30, 14:30–19:30.
Sunday: 8:00–13:00, 16:30–19:30.
Admission: the entry is free, except for Chapel of Saint Januarius. To enter the chapel, you have to pay 6 euros. If you wish for a guided tour, then the ticket will cost 8 euros. Children under the age of 6 are free of charge.
Santa Chiara
Religious complex Santa Chiara that consists of an archeological museum, tomb and a monastery was built in honor of Clare of Assisi. This church is a prime example of classical and minimalist Gothic style. While wandering through just as remarkable Spaccanapoli street, I decided to take a break on Gesu Nuovo Square (translates as New Jesuit Square). There, near the Column of the Immaculate Conception, giant Santa Chiara emerged before me. This quite plain-looking boasts tombs with remains of Robert the Wise, member of the House of Bourbon.
Almost every piece at the altar was burnt, the altar itself, however, magically survived the fire. Santa Chiara is not illuminated properly since the only source of light here are long and narrow classic Gothic windows. This dimness definitely adds some mystic inside the building, the tombs look much older and greyer than they actually are.
How to get to Santa Chiara
Address: Via Santa Chiara, 49/c.
Take the subway to Dante station (L1).
Opening hours: from Monday to Saturday from 09:30 till 18:00, from 10:00 till 14:30 on Sundays. The church is open from 7:30 till 13:30 and 16:30 till 20:00.
Admission: adult tickets cost 6 euros. Students and people over the age of 65 may pay only 4,5 euros.
Gesu Nuovo Church
While you're still on Gesu Nuovo Square, don't forget to check out the church after which the place was named – Gesu Nuovo Church.
Its dark grey façade is decorated with stones that are shaped like pyramids – a pretty extraordinary idea that always captures tourists' attention. Inside and outside design creates a striking contrast presenting the grandeur of one of the most significant historical monuments. You will also be amazed by unique biblically themed frescos, interesting white marble sculptures, hall embellished with various colored marble – such a vibrant color scheme! You can also access five astonishing chapels that feature sculptures and frescos with saints on them through the main hall.
Many locals and tourists come here to enjoy the beauty and silence and to plunge into the sacred world.
How to get to the Gesu Nuovo Church
Address: Piazza del Gesu Nuovo, 2.
Take the subway to Dante station (L2).
Opening hours: every day from 07:00 till 13:00 and 16:00 till 19:30.
Admission: free.
Promenade in Naples – admiring the sea and the city
Start your stroll from the street called Via Nazario Sauro and slowly following the rocky shore get to Lido Mappatella beach that is situated opposite to the city park Villa Comunale.
While walking down the promenade don't forget to take a moment and enjoy a view of the great and fearsome Vesuvius, boundless sea and its mirror-like surface and the most expensive city hotels.
A tired traveler can stop by one of the many restaurants lying across the bank, get a suntan and swim at the seaside. After visiting so many architectural monuments and walking in a blazing sun, you should definitely relax in shadows in the city park.
Advice for guests of Naples
To sum up, I want to give some personal advice that might come in handy for you or make your stay in Naples more comfortable.
There are lots of immigrants in the city and because of that theft is pretty common here. Keep your personal belongings close to yourself and where you can see them. At night you should walk only on the central streets, don't pull your expensive devices out, such as phones and cameras. It is recommended to make your photos during the daytime.
Don't buy anything from immigrants, off the ground or in those counters made out of paper. Usually, they sell run-of-the-mill goods that will cost the same if not cheaper at regular stores. There is no way they have real products like Rolex watches, original iPhones, etc.
Be careful with street food in the railway station area, there is a massive flock of immigrants, and the place is not particularly clean. Everything's in order in the city center though. You're left with an impression that immigrants are not allowed to be in the central part of Naples. You can rarely encounter any of the immigrants there, but if you do, then you will see them mostly selling selfie sticks and portable chargers.
Be sure to try some pizza. It doesn't matter where – it is excellent in every restaurant and takeaway bakeries. After all, there's a reason why Naples is considered to be the homeland of pizza.
When buying tickets for subway, train, bus, and whatnot, get round-trip ones right away so they will cost you less.
Book rooms in advance. It might be quite problematic to find a place to rent due to a large number of tourists and immigrants.
If you rented a car then mind all the traffic rules because they are really strict in Naples and Europe generally. This is very important since the average fine here is 30–40 euros. Keep that in mind!
And most importantly, remember the only person that is responsible for your safety is, first and foremost, you. Don't ignore signs and indicators; learn what you are allowed to do here. Drink alcohol in moderation. Unawareness of local laws and rules does not release you from liability.
We wish you a successful planning and an enjoyable stay in Naples!
If you liked the article, tell your friends :)