Dolfin Manin Palace, Venice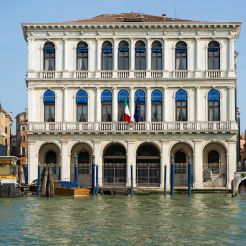 Palazzo Dolfin Manin is a palace in the central part of Venice, located on the banks of the Grand Canal. It was built in the middle of the 16th century. The palazzo was inhabited by Venetian merchants, diplomats, and also doges. In 1867, the building was transferred into the possession of the National Bank, at present the Bank of Italy continues to operate within its walls.
History of the Dolfin Manin Palace
The Dolfin Manin Palace was built according to the architectural pattern of many Venetian buildings of the 16th century, based on two medieval houses. Originally the palazzo had a trapezoid shape with a patio in the central part and two entrances – from the land and from the side of the Grand Canal. The palace was built by the order of the Venetian diplomat Giovanni Dolfin, the author of the project was the famous Italian architect Jacopo Sansovino.
Subsequently, the owners of the building were several famous Italian families, in particular the family of Pesaro lived in the palazzo for a long time. In the 18th century, the last doge of Venice Ludovico Manin settled here. He decided to completely reconstruct the palace, retaining only the original façade. The Italian architect Giovanni Antonio Selva worked on the new project of the Dolfin Manin Palace. Ludovico Manin moved into the palace in 1801, after the fall of the Republic of Venice, and lived here only one year, until his death.
At first glance at the Dolfin Manin Palace, the building seems to be directed upwards, but in its height it does not differ from the nearest structures. This effect was achieved thanks to the arched colonnades on each floor. Also it is worth paying attention to the façade of the house, unlike the architectural compositions of many Gothic Venetian palaces, Dolfin Manin Palace cannot be called "laced", as there are not a lot of lace elements on the facade, only carved columns.
How to get there
The Palace of Dolfin Manin is located in the central part of Venice, on the banks of the Grand Canal. It will not be very difficult to get there. You can use the services of gondoliers, or swim on a vaporetto to the stop "Rialto".