Fountain on Piazza Colonna, Rome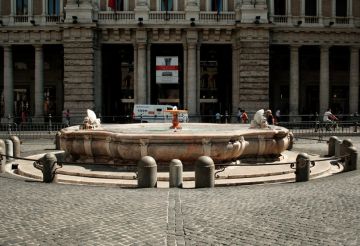 The fountain on Piazza Colonna in Rome is an octagonal tank with convex and concave sides of marble, and is adorned with sixteen lion heads made of Carrara white marble. Marble was brought from the island of Chios, and it served as the basis for the bowl of the fountain.
History of the fountain on Piazza Colonna
Architect Giacomo della Porta and the sculptor Rocco Rossi worked on the fountain from 1575 to 1577. It was one of 16 of della Porta fountains, built by the decree of Pope Pius IV, as part of the reconstruction of the water supply system for the citizens. In the center of the fountain a round stone bowl was placed on a pedestal and water flowed from a small bowl to a large bowl. The townspeople used this and other fountains to drink, because previously they had to drink polluted water from the Tiber River.
In the 17th century the fountain was restored and slightly modified by the famous sculptor and architect Bernini. In 1830 the architect Alessandro Stocchi replaced the damaged bowl with a new one. He also added two groups of dolphins, the tails of which are wrapped around seashells. Water pours into the basin from the mouth of the dolphins.
How to get there
Palazzo Chigi is adjacent to the rectangular Piazza Colonna from the North side. From the North-West side you can see the Palazzo Montecitorio. The Palazzo Wedekind is situated on the West side of the square, and on the South side – Palazzo Ferraioli. But still the main reference point should be the column of Marcus Aurelius. On the street Via del Corso, next to the square, there is a bus number 25.