Vasari Corridor, Florence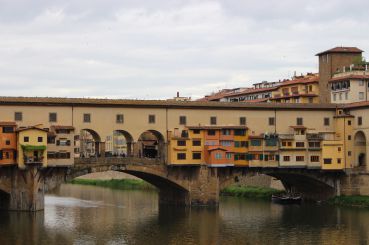 Now the Vasari Corridor in the Italian city of Florence is part of the famous Ufizzi Gallery. It was built in the distant 1565 by the order of Duke Cosimo I de' Medici. It was decided to build this covered gallery in honor of the wedding of the son of Medici Francesco with Joanna of Austria. The author of the project was the architect Giorgio Vasari. By the way, they built it in a record time – five months. During all of its existence, the Vasari Corridor has been restored several times, but its exterior has not changed for many centuries: in 1939 the Italian dictator Benito Mussolini ordered to enlarge the windows. The next important change occurred in 2013 – there was an exposition with the works of artists of the 21st century (self-portraits).
Exposition
The decoration of the Vasari Corridor is a collection (700 paintings) of Roman and Neapolitan masters who created them in the 16 and 17 centuries. The works of Italian artists who lived and worked in other epochs, until the end of the second millennium are also here.
In addition, in the Vasari Corridor there is a large (1400 copies) collection of original paintings by Raphael, Velázquez, Rubens, Giorgio Vasari and Russian artists Boris Kustodiev and Orest Kiprensky.
Please note: at the beginning of the exposition you can see unreconstructed canvases, as well as fragments of paintings that are glued to the black background. This all is a reminder of the terrible events of 1993, when a car with explosives was blown up near the gallery.
How to get there
The Vasari Corridor is located above the Arno River and connects two important historical and tourist sites – Palazzo Pitti and Vecchio. After the terrorist attack in 1993, the entrance to the gallery is limited. Excursions are held for groups only a few days a year (national holidays).
You can get here on foot from the railway station of Florence, or take public transport (buses C3, D, stop Ponte Vecchio). Not far from the Vasari Corridor there is the Museo Galileo.