Temple of Antoninus and Faustina, Rome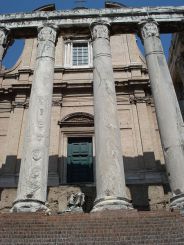 The Temple of Antoninus and Faustina is one of the few buildings of the Roman Forum well preserved to the present day. The building is located on an elevation between the Basilica Aemilia and the Temple of Romulus. The Roman Emperor Antoninus Pius, who ruled the Roman Empire in the 2nd century, gave the order to build a temple for his wife. A beautiful structure was supposed to perpetuate the beauty and greatness of the late Empress Faustina the Elder.
History of the Temple of Antoninus and Faustina
The Temple of Antoninus and Faustina in Rome was erected in 141 AD in honor of the deceased Empress, as indicated by the inscription on the architrave facade: "To the divine Faustina by decree of the Senate." After the death of Antoninus, the Senate dedicated the temple to both spouses, and the inscription "To the divine Antoninus and" was added.
Presumably in the 7th century, the temple began to be used by Christians and was converted into the church of San Lorenzo in Miranda. It is believed that it was here that St. Lorenzo died as a martyr.
In 1429, Pope Martin V passed the church to the Collegio degli Speziali (College of Chemists and Herbalists). The museum and the archives of the college are still in the church building.
The church has been rebuilt many times. In 1536, in order to restore the original form of the temple, three side chapels were removed. Later they were restored during the reconstruction of the church by the architect Orazio Torriani. The Church of San Lorenzo in Miranda is active, and services are held in it.
Architecture of the temple
The Temple of Antoninus and Faustina is located on a high podium. Previously, the entrance led to a staircase made of stone. But it was not preserved, so it was replaced by brick.
The threshold of the temple consists of ten marble columns. Their height is 17 meters. The marble frieze above the columns is decorated with images of griffins and floral ornaments. On the columns you can notice a lot of oblique grooves. Perhaps these are the traces of ropes.
The temple is built of volcanic tuff. Previously, it was faced with marble. The statues inside the temple and the altar were badly preserved.
How to get there
The Temple of Antoninus and Faustina can be observed while visiting the Roman Forum. The central entrance is near the Colosseum. You can get here by public transport:
Metro: Line B. Stop Colosseo.
Bus: 51, 85, 75, 87, 118, N2 to the Colosseo stop (MB).
Ticket price: 12 euros (ticket for 2 days, the price includes a visit to the Colosseum, the Roman Forum and the Palatine). Tickets can be booked online, the cost of the service is 2 euros. To visit the Roman Forum, you can also use the Roma Pass. On the first Sunday of the month, admission is free. Data of 2018.