Best Italian Thermal, Sea and Ski Resorts
5436
Five different seas, high Alpine peaks, hot mineral streams, volcanic mud bathes – Italy definitely has something to offer you. This country can boasts not only with antique culture, but with lots of ancient legends. The beauty of Italian nature is something which is difficult to describe with words. It attracts thousands of tourists from all around the world each year. IGotoWorld.com is going to tell you which of them are best among all the variety of Italian resorts. No matter which season your vacation is going to be, be sure to choose Italy as your holiday destination.
Photo by: italiatour.ru.
Sea Resorts in Italy
Italians are lucky! They don't need to go miles away to feel light warm sea breeze and to see endless blue horizons. Imagine, this country is washed by five different seas! So these "children of the sunny land" never need to go far to enjoy the beauty of the sunset by the sea. These are Italians who host millions of tourists each year coming here for romantic holidays and weekends. No wonder, these sea coasts are so picturesque! What is more, the high season in southern part of Italy lasts from April till November!
Italian sea resorts never look the same with each other: some of them are rocky with grand rocks and grottoes, others are sandy with endless golden sandy beaches. Each of the coast lines has its own feature, as well as each of five seas has its own secrets. Want to learn more about them?
Photo by: vl.ru.
Adriatic Sea
One of the most visited cities of Italy – Venice. If one day you have a chance to come here to enjoy the beauty of its architecture, don't miss a chance to spend some time on Adriatic seaside. The most popular sea resorts nearby Venice are: Rimini Lido di Jesolo and Riccione. They are quite crowded and are good both for youth and family holidays. Mothers may not worry about their kids much, the sea is not very deep here, so children can have fun safe in the water. Planning your summer vacation with kids in Italy, these resorts are the right places to choose.
Besides, there are lots of options for a nice stay. In Venice only there are more than 1400 hotels and hostels. And in Rimini you can book a room with fantastic sea view. Riccione is located more south than Rimini and it's more cozy and quiet, so there are also lots of nice options for accommodation.
Photo by: folklorefestival.com.
Liguria Sea
Remember those breathtaking pictures of tiny bright houses growing up on the rocky shores? They were taken at the Liguria Riviera. Beaches in this area are not very big, but very cozy. Azure sea is clean and warm with gentle waves. It's deep almost from the very beginning, but it's so wonderful to swim watching the rocks surrounding you. This is an incredibly beautiful coast line!
Photo by: fonstola.ru.
You can even visit French Nice by train from here. Liguria seaside is one of the most respectable Italian resorts, so, get ready to spend some money, as it's not made for a budget holiday. The biggest and most popular cities here are San Remo and Genoa. In Genoa the biggest aquarium is located. Imagine your romantic morning in a suit surrounded by a tropic garden and Liguria sea view. Choose and book hotels in Sanremo here. Also Genoa can also boast with lovely hotels.
Tyrrhenian Sea
It washes "Italian High Boot" in the west. Its coasts are also rocky, but winds, ebbs and flows are not so strong here. Tyrrhenian Seashore starts from the famous Sorrento Beach which is considered to be the cleanest and the most beautiful ones. The most expensive holiday destination here is Amalfi coast. But it's a wonderful place for a family vacation.
Photo by: senderismoeuropa.com.
Local resorts are not noisy at all, they are perfect for a quiet rest. Everything around them has its own legends. And the area between Naples and Rome is the very place where the mythic place – Odyssey Coast was located. So, be sure to have rich sightseeing program here.
Even in high season you can find a good hotel here with rooms by reasonable prices. Book rooms in Sorrento beforehand.
Ionian Sea
This is the place for those looking for a hideaway for a weekend or more. It's not so crowded with tourists like other Italian sea resorts. Besides, Ionian Sea is famous for pure virgin waters. On the shore there are lots of medieval castles and remains of legendary buildings and monuments. You might like such cities as: Taranto, Mottola, Matera and others. And this is almost the only place in Italy where practically everyone can afford themselves to rent an apartment right by the sea by a reasonable price.
Photo by: easyvoyage.co.uk
Mediterranean Sea
Actually, all the seas mentioned above belong to the waters of Mediterranean Sea and the borders between them are quite nominal. It's considered that the waves of Mediterranean Sea wash the country in the south where beautiful Sicily and Sardinia islands are situated. The beaches of Sardinia are among the cleanest ones on Italian seaside. This is a paradise for people who prefer a lonely stay during their vacation. But at the same time this is not going to be a cheap holiday. For a bit noisier rest come to Citta del Mare Sicilian sea resort, where you can find lots of entertaining facilities. Sicily is considered to be one of the most sunny places in Italy. It's also called the Helios Island – the God of Sun. Swimming season here starts from the end of April and lasts until November! Sea resorts in Italy are really wonderful!
Book hotels, hostels and apartments in Sicily in advance here.
Photo by: mirror.co.uk.
Italian Ski Resorts
Every winter lots of tourists go to conquer Italian peaks. Italian ski resorts are among the most popular ones in Europe. The highest peaks reach the point of 5 thousand meters! The most interesting are those resorts located near the borders with other countries. Thus you can go up the mountain in Italy and by going down the slope find yourself in France eventually. The most visited resorts are located in Alps. But you shouldn't also forget about Apennines.
Photo by: keepintrip.ru.
Italian Alps
These snow peaks crown the "Italian High Boot" from the top. Cozy Italian villages are located down the mountains. Their tiny houses, distinctive culture and eco farms are something to devote your time to besides skiing. But the green fields and white flocks of sheeps look especially nice from the top.
Photo by: photo.99px.ru.
The highest Alpine peak and the second highest European mountain after Elbrus is Mont Blanc or Monte Bianco (4810 m). It's located on French-Italian border. Here the most popular European resorts are located. Courmayeur is one of them. By the way, the term "alpinism" originally came from here.
Plan your winter vacation in advance, as it's extremely popular in Italy. Choose your accommodation in Courmayeur here.
Photo by: telegraph.co.uk.
The skiing season usually starts in December and, depending on weather conditions, lasts until April. Alpine resorts are famous for well-developed infrastructure. Lots of different hotels, hundreds of lifts, incredible number of slopes of different complicity and unique atmosphere attract here thousands of people who are fond of active holiday. But it's also a wonderful place for a quiet weekend with your family.
Here is one of the most popular resorts – Sestriere, where in 2006 Winter Olympics were held. Find the best hotels in Sestriere here.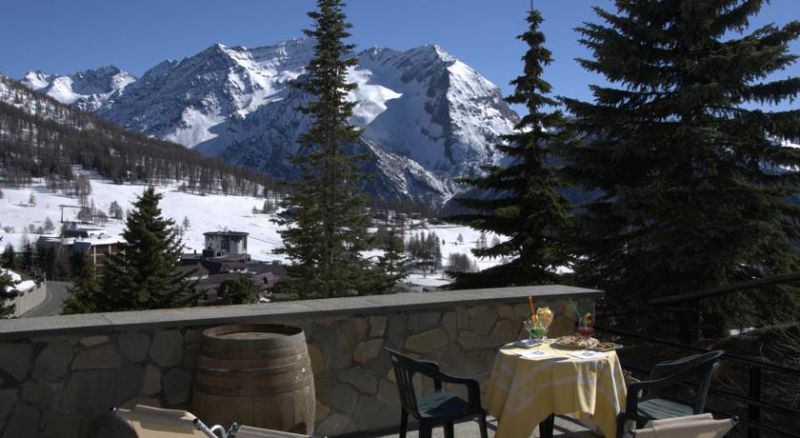 Photo by: booking.com Hotel Sud Ovest.
Apennines
These young mountains give the way to Alps by the height. And most of the time they are not covered with snow, because of the lower level above the sea, so none of the glacier formation can occur there. But yet still there are lots of ski resorts, as the highest peak of this mountain range – Corno Grande is covered with snow. This mountain reaches the point of 3 thousand meters.
Photo by: cobra-experiment.org.
It's important to mention that not only ski sport attracts people to Italian mountains. They are also popular among those who go in for alpinism and orienteering.
Photo by: stellavia.ru.
Among the main sights of Apennine Mountain Chain is the National Park of Abruzzo. Here one can enjoy breathtaking views of medieval castles standing on the top of rocks and cliffs. Besides, world famous Vesuvius and Etna volcanoes belong to this mountain range, too.
In Abruzzo one can find more than 1500 hotels, apartments and hostels. Find and book your stay in Abruzzo here.
Thermal Springs
Thermal baths have been widespread in Italy since the times of ancient Rome. Baths and saunas were of high popularity among Roman nobility where they came for health and beauty care. They very not just rest places, but real works of art! They were located in the place with necessary nature conditions: hot mineral streams with rich and useful waters. And there are really plenty of such places in Italy. So, let's talk a little bit closer about thermal resorts in Italy!
Photo by: italiatut.com.
For example, lots of people like to come for healthcare to the island of Ischia, paradise on Earth. Thermal springs of Saturnia have also gained the popularity among people from many different countries. The Baths of Sorgeto are known for the fact the water can reach 90°С! So you should be careful during the flow not to get a burn! Except hot mineral steams you can also find places with mineral volcanic mud baths. Get the treatment and healthcare programs of the highest standards in SPA centers located in these rich areas.
Follow the link and find an appropriative room on Ischia Island.
In Saturnia most of people prefer to rent a whole villa. Look for the best deals here.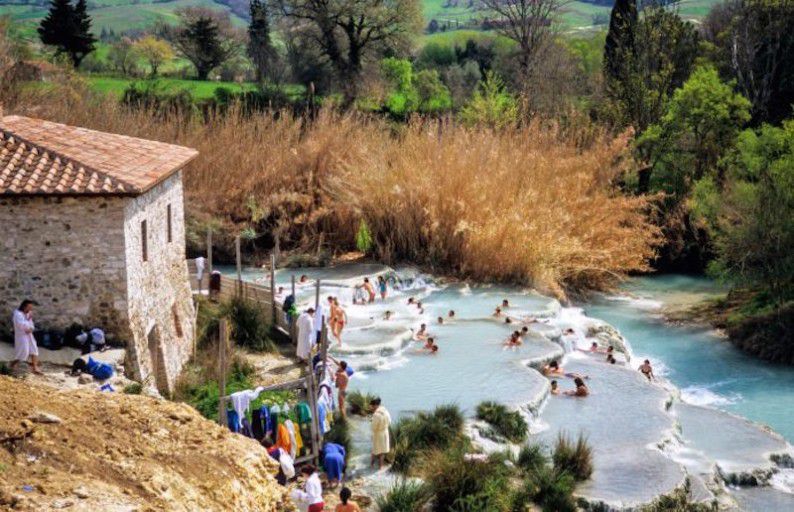 Photo by: italiatut.com.
But Italy can also surprise you with a wide range of free thermal bathes. These lovely corners of the Earth called falls-mills always attract lots of people who want to touch and to feel its healing power.
Italian resorts are diverse, indeed. And which of them did you have a chance to see?
If you liked the article, tell your friends :)