Monument to Garibaldi, Piacenza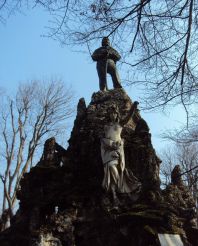 Monument to Garibaldi (Monumento a Giuseppe Garibaldi) with its gloomy and stern look welcomes every tourist who arrives in the town of Piacenza. This statue is the first thing people see while coming from the city station. The first among equals, as the famous revolutionary was during his lifetime.
Historical personality
Giuseppe Garibaldi was one of the key players, without whom, perhaps, Risorgimento in Italy would not have taken place. The eternal revolutionary immediately joined the first war of independence with Austria in 1848. He headed the volunteer units who went through the war with honor. After the defeat, Garibaldi settled on the island of Caprera, because he disagreed with the interim peace. In 1858 a new war broke out with Austria, and Giuseppe joined it again. After the end, he returned to his residence on a small island. He was repeatedly elected deputy to the state council, but he refused to pursue a politics carreer that he did not like. In 1876, Garibaldi was awarded a lifetime pension, which he donated to charity. For this, as well as for military achievements, he was a popular favorite.
Sculptural composition
After Garibaldi's death the construction of monuments to a famous figure began everywhere. In Piacenza, the fundraising was organized by the organization of veterans of the wars for independence. And in 1889 a statue created by the sculptor Enrico Astorri was opened in the city. The sculpture is made of bronze. The general is depicted full-length, wearing a cloak, his hand propping his chin. He thoughtfully gazes around, and his face expresses discontent with the truce with Austria. Another sculpture is carved at the base of the monument. Here Garibaldi is portrayed as a soldier raising the fighting spirit of his comrades in battle.
How to get there
The monument is located in front of the Piacenza Station, on Via Giulio Alberoni. Nearby there are the Palazzo Costa and the Natural History Museum. Piazzale Marconi stretches between the statue and the station, and there is a bus stop with the same name. Many routes lead from it to different parts of the city.