Monument to Victor Emmanuel II, Bergamo
The monument to Victor Emmanuel II dominates the Giacomo Matteotti square in Bergamo. The grand opening of the landmark carved by Luigi Pagani and Francesco Barzaghi took place on October 22, 1884. Victor Emmanuel II overlooks the city from the pedestal with two lions at its foot. Animals look in different directions as if guarding the peace of the king.
Who is Victor Emmanuel II
A native of the Savoy dynasty, Victor Emmanuel II, came to power in 1849. In 1861, he became the first king of a newly-united Italy and forever went down in history as a fighter for the unity of his people. The significance of this event can't be overestimated. Therefore, statues in the king's honour can be found in many Italian cities. The most sublime monument called Vittoriano is in Rome.
The king was buried in the Roman Pantheon.
How to get there
The Monument to Victor Emmanuel II in Bergamo is located in the lower part of the city in the square of Giacomo Matteotti. It can be reached on foot from Bergamo Station in ten minutes. Beside it, the ancient church of Santa Maria delle Grazie is situated.
Tours and excursions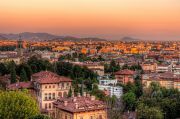 Он словно стыдливо спрятался в своем цветущем благополучии в 50 км от «шумного» Милана.