Vesuvius National Park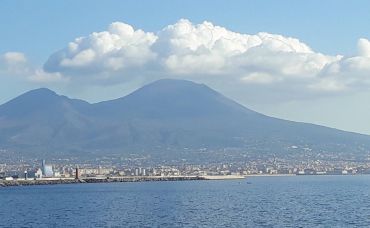 The Vesuvius National Park is located in the Eastern part of Naples. The park was created to protect one of the most famous and dangerous volcanoes in the world – Vesuvius. It is worth to mention the high geological and historical significance of the national park. It was opened in 1995, and since then the scientific work on studying the volcano and its nature has been actively conducted here.
Nature of Vesuvius National Park
The volcanic massif has been active for 400 thousand years. Lava and tuff with marine sediments alternate in the composition of the volcanic rocks.
Objects that are under enhanced protection in the national park:
the crater of the volcano Vesuvius;
the old volcanic Mount Somma;
the ancient volcanic caldera of Valle del Gigante.
The plant and animal life of the national park is rich with many unique species. Numerous eruptions of Vesuvius enriched its soil with useful substances, due to which there are about 610 species of plants growing here, 40% of the plant world is composed of the Mediterranean flora. Within the park, 18 species of endemic are found.
The animal world is represented by many species of rare mammals. The park is inhabited by a large population of wood mouse, stone marten, as well as foxes. More than 100 species of birds deserve special attention.
The total area of ​​ Vesuvius National Park is 8482 acres, with 13 cities, a forest reserve and a biosphere reserve. It is under the protection of UNESCO.
Attractions of the park
To explore the nature of the national park, 9 special hiking trails have been developed. The main attraction of the national park is the volcano Vesuvius. In addition to the volcano, in the park you can see the ancient Roman cities that were buried under a thick layer of ash:
It is also possible to visit the villas of Pompeii and Oplontis.
How to get there
The most convenient route to the Vesuvius National Park is from Naples. You can use three types of transport:
Car – you need to follow the A3 motorway before the turns to Ercolano or Torre del Greco.
Train – train Circumvesuviana departures daily from the central station of Naples (Piazza Garibaldi), stop – station Ercolano-Scavi. The journey takes 15 minutes. Trains depart regularly. Further to the site of the Vesuvius National Park you can take a minibus, travel time – about 30 minutes.
Bus – from Piedigrotta at 09:20 and 10:35 in the morning the bus leaves to the national park. The journey takes 90 minutes. Also the bus departs from Piazza Garibaldi.
Opening hours: The national park is open all year round, except for days when the park administration will consider the ascent to the volcano unsafe.
from 09:00 to 15:00 (November – February);
from 09:00 to 16:00 (March – October);
from 09:00 to 17:00 (May – September); 
from 09:00 to 18:00 (August).