Lions Fountain and Flaminio Obelisk in Piazza del Popolo, Rome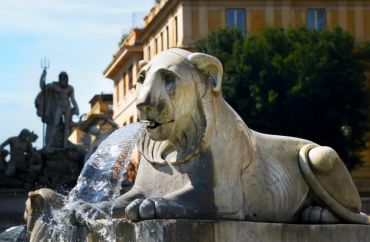 In the center of the Popolo Square in Rome there is a fountain with the Egyptian Flaminio Obelisk in the center. The bas-reliefs, located on the monument, are dedicated to the pharaoh of Egypt – Ramses II. Along the perimeter, the obelisk is surrounded by fountains in the form of four marble lions – copies of antique lions, once standing at the foot of the Capitol. Lions recline on square bases with five steps. Water flows into the round bowls of white marble from the mouths of the lions.
The height of the Flaminio obelisk is 24 m, and together with the pedestal and cross at the top it makes up 36.5 m.
History of the obelisk and the fountain on Piazza del Popolo
The obelisk in the center of the Lion Fountain is one of the 13 antique obelisks in Rome. The obelisk dates back to the 13th century BC, during the reign of Ramses II. Then it was in Heliopolis in front of the temple of the god Ra. In the 10th century BC this stone pillar was taken from Egypt by Octavian Augustus and installed in the arena of the Circus Maximus. Over time, the obelisk was lost.
In 1589, the obelisk of Flaminio was found during the excavation, and it was broken into several parts. A few years later, on the orders of Pope Sixtus V, Domenico Fontana restored and installed an obelisk on the Popolo Square, in the center of the fountain.
The fountain of Lions on the Popolo Square appeared in 1572, created by the project of Giacomo della Porta. The idea of ​​Pope Sixtus V to set the obelisk here was part of a huge strategy. At that time, the Popolo Square was considered the starting point of the Via Flaminia, one of the most important roads to the north. In fact, it was the northern entrance to Rome – pilgrims, merchants, artists and others entered the capital through the gate in Popolo Square. The obelisk adequately emphasized the greatness of Rome.
During the reconstruction of the square in 1811, architect Giuseppe Valadier brought changes to the fountain. Four rectangular bases with five steps appeared around the obelisk, and on the top there were lions and from their mouth water poured into bowls of white marble.
The Lions fountain and the obelisk of Flaminio were restored between 1997 and 1998, and also from 2015 to 2016.
How to get there
Piazza del Popolo is often the last, the most northern point of excursion around Rome. Bus routes that will take you to the place are № 117, 628, 301, N25, C3. If you prefer the metro, choose line A. You need to get off at Flaminio station. For organized tourists there is a pedestrian route "Fountains of Rome" with a length of 6 km.