Museum of Sicily Contemporary Art, Catania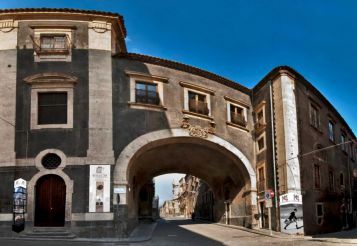 The Museum of Sicily Contemporary Art is one of the most interesting museums in Catania, which was created with the aim of developing and promoting contemporary art in the region. Located in the historic building of the church of San Benedetto in central Catania.
Collection of the Museum of Sicily Contemporary Art
Thanks to the successful placement of the collection of the museum in a historical building – it combines the architectural beauty of the 18th century and the modernity of canvases.
The exposition of the museum demonstrates the history of the development of artistic skill in the region, from the time of the Baroque to our days. The main aim in the work of the Museum of Contemporary Art in Catania is to preserve and demonstrate the cultural richness of the Sicilian region, and talk about contemporary artistic trends in the world. At the same time, the museum acquaints the visitor with new works by young little-known artists and does not forget about the talent of leading masters.
Despite its small size, the museum houses the canvases of Spanish, Italian, French and Ukrainian artists. Particular attention should be paid to the film about the life and work of artists and sculptors, whose canvases are kept in the museum. Here you can see the works of Alfio Giurato, Ugo Riva, Wenceslao Jiménez Molina, Teodor Teofil Baciu, Roberta Busato, Nino Pracanica and many others.
How to get
The Museum of Contemporary Art of Catania is located in the historic part of the city, close to the main attractions, on via dei Crociferi. You can get here when you are walking around the city.
Opening hours: on Mondays the museum is closed. From October 1 to April 1, the museum is open from 9:00 to 17:00. During the summer, the museum is open from 10:00 to 19:00.