Duomo Square, Bergamo
Duomo Square in Bergamo is pretty tiny by modern standards. However, it is considered to be the "soul" of the city. It might seem as if the buildings here are pressed against each other, and sometimes it is a bit hard to figure out where one ends and another begins. It was named after Bergamo Cathedral (Cattedrale di Sant'Alessandro or Duomo di Bergamo). In ancient times this square was the center of political and economic life in the city. In the 15th century, it became too small, and it was decided to build new city square, which is now called Vecchia Square.
Sights to see on Piazza del Duomo
If you happen to visit this place, take notice of:
The Cappella Colleoni (15th-century memorial chapel).
Bergamo Cathedral (its construction had started in the 15th century. However, it was consecrated only in 17th century).
The Basilica di Santa Maria Maggiore (a 12th-century ancient church, was rebuilt many times).
The baptistery (it was built in 1340, although it was dismantled and relocated several times).
Fun facts
During the reconstruction work in 2004 many archaeological pieces were found in the cathedral. Some of them date back to 10th century BC. These pieces are put on display in church museum which was opened in 2012. These excavations helped discover a lot about the history of Duomo Square and Bergamo altogether.
The Basilica di Santa Maria Maggiore was built to honor Saint Mary who according to the legend protected the city against plague.
The fact that the first town hall building was set in front of Duomo Square is pretty interesting. After fire damage reconstruction work was performed and now the city hall façade faces nearby Piazza Vecchia.
How to get
Duomo Square is located in the Upper City. You can get there from the Lower City by cableway or by following curvy cobbled streets of Bergamo.
Tours and excursions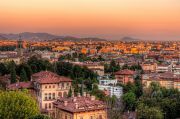 Он словно стыдливо спрятался в своем цветущем благополучии в 50 км от «шумного» Милана.