Monumental fountain, Faenza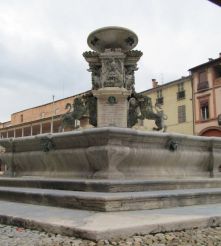 Monumental fountain (Fontana Monumentale) is one of the most beautiful and important monuments of Faenza. It is quite old, its elegance and details are very pleasing to the eye. Besides, it is well known both among the townspeople and the city guests – all thanks to it being located on the central square.
History
During the Renaissance, the existing water supply system in the city was barely functioning. And in 1583 its reconstruction or rather, the construction of a new aqueduct began. The works were carried out under the guidance of the monk named Domenico Paganelli. After a while, they were stopped due to the engineer leaving for Rome. Then in 1614 everything was resumed. After Cardinal Rivarola's suggestion to set a fountain in the center of the city, the work on it began in 1617, some of the first steps were made. The sculptor Domenico Castelli was offered to decorate the fountain. He produced the blueprints for it which were approved by the Cardinal, and, after 3 years of work, the fountain was finally completed. The first, informal opening took place on December 7, 1620. The second publicly celebrated one, was held after everything was finished – on June 8, 1621. In 1869 an iron forged fence was dismantled. Because of the frequent forming of calcareous sediments, the fountain was cleaned and restored 6 times, the last restoration dates back to 1998.
Sculptural design
The fountain is made of white marble, and the sculptures decorating it are made of bronze. On the lower level, there are three large steps leading to a hexagonal waterway. A large reservoir is placed below it, the pipeline from which goes to the three upper levels of the fountain. It has several calibrated holes that help the water flow to certain places.
Sculptures of lions are installed at the lower level, referring to the city's coat of arms. Right above there are sculptures of wolves, symbols of Rome. They are functional and have trickles of water pouring out of them. Besides that, small statues of dragons are put in the pool itself, on the middle level you can see a bas-relief depicting an eagle. They symbolize Pope Paul's V deeds, also known as Camillo Borghese. The fountain crowns the round bowl of water beating trickles.
How to get
The fountain is located on the central city square of Faenza called Piazza della Liberta. Faenza Cathedral, the town hall, and many historic buildings can be found nearby. The nearest bus stop is Via XX Settembre, you can catch the bus №51 there.