Administrative division — Lombardy region
provinces
News Lombardy region
В Милане, в экспозиционном комплексе «Fabbrica del Vapore», проходит выставка разнообразных изделий из известного конструктора «LEGO». Это более 100 произведений искусства – реалистичных и сюрреалистичных, для которых понадобилось более миллиона деталей конструктора.
Now in Italy in the prestigious Milan restaurant «Refettorio Simplicitas» Visitors can eat ... in peace and tranquility.
Tours and excursions Lombardy region
К Большому сожалению, нашим соотечественникам мало что известно о Мантуе — это своеобразная «черная дыра» на карте Северной Италии, пожалуй небольшой проблеск в памяти вызывает лишь упоминание оперы Д. Верди " Риголетто», грустная история шута- горбуна.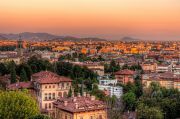 Он словно стыдливо спрятался в своем цветущем благополучии в 50 км от «шумного» Милана.