Fountain of the Twelve Months, Turin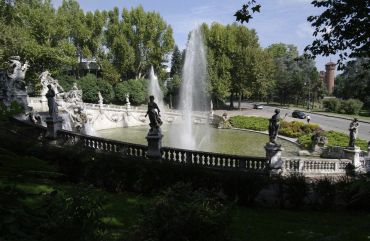 Fountain of the Twelve Months in Turin (Fontana dei Dodici Mesi) is a graceful creation that you will not be able to pass without surprise. The fountain united Art Nouveau and Rococo styles. It perfectly complements the historic Parco del Valentino on the banks of the Po River. In the late 19th century, a huge National Exposition was held in Turin, dedicated to the 50th anniversary of the adoption of the Statuto Albertino – the Constitution of Sardinia-Piedmont in 1848. The entire architectural complex of various buildings and structures was created to the solemn date. And the fountain is the only element of that grandiose project that has survived to this day. The famous architect Carlo Ceppi worked on its creation, and several sculptors created statues. The opening of the fountain took place on May 1, 1898.
Fountain architecture and legend
The fountain is a round pool, and water falls in it from a small waterfall in the center. 2 terraces smoothly descend from it. 12 statues, symbolizing 12 months of the year are on the pillars of the terraces. Above the central waterfall there are 4 sculptural groups, symbolizing the rivers on which Turin is located:
Po River. Statue of the bearded warrior by Edoardo Rubino.
Stura River. Three nude female figures by Luigi Contratti.
Dora River. The statue of the shepherd girl, author – Giacomo Cometti.
Sangone River. A group of sculptures consisting of an angel who smiles at a working couple in love. Author – Cesare Reduzzi.
Many people belive in an interesting legend associated with this place, which proves the mystical connection of Turin with ancient Egypt. It says that one day the son of the Egyptian sun god Ra, Prince Rahotep stole his father's chariot, and later he fell from heaven to earth. It is said that its fall occurred exactly in the place where the fountain is now installed. And later, in the same place, the Romans founded the colony Augusta Taurinorum, in place of which Turin now stands. True or fiction, but it sounds beautiful and has the right to life.
How to get there
The fountain is located in the most southern part of Parco del Valentino, on the Viale Matteo Maria Boiardo. On the front side, it is turned towards the Po River. Not far from the park there is the Museum of Anatomy. Nearby there is a stop Torino Esposizioni. It can be reached by tram № 9, and buses № 47, 67, 108, 260, 299, 302.