Uffizi territory grows, new facilities please tourists
1806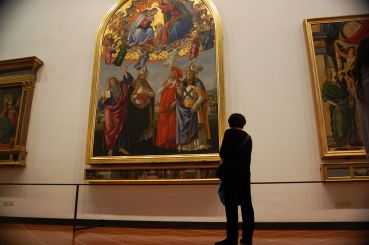 In Florence, in the famous Uffizi Gallery as part of the "New Uffizi" opened five new halls. They are placed in "Tribune" - placing the most precious artifacts and are designed for more than forty of masterpieces of the 15th century, who had previously stayed in the vaults of the museum. 15th century in the history of European culture is usually called the period of the early Renaissance. Fine art of this period is characterized by a gradual departure from the cultural canons of the Middle Ages. Art becomes more secular nature, refers to the person and nature. Medieval elements are increasingly combined with the ancient classics, used volumetric composition, the images become more realistic.
"New Uffizi" created for a significant expansion of the museum exposition. Galleries open new facilities in 2011, 2012, 2013. They exhibited more than 300 paintings by artists of the first half of the 16-17 centuries, from the museum`s archives. In addition, some of the new facilities offered to visitors with a small amount of free time a shorter route dating from the Uffizi. After all, even a cursory review of the huge gallery takes a very long time.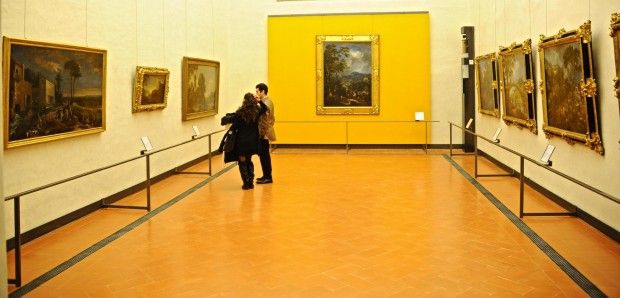 The Uffizi is located in the heart of Florence - a special city, the birthplace of the Renaissance, and the saturation of the masterpieces of the great masters simply stunning. Palatial building of the gallery built in the second half of the 16th century by the famous architect Vasari.
Initially, it was erected as an office building, eventually transformed into a museum. Birth museum also held in the second half of the 16th century. Basis of the collection was a collection of Florentine rulers - the Medici family. Cosimo de `Medici collected paintings and sculptures, his successors were also engaged in this hobby.
Today the Uffizi - one of the largest and oldest museums in the world, the world`s largest treasure trove of paintings Italy 13-18 centuries, a collection of German, Dutch, Flemish, Spanish art. It works by Leonardo da Vinci, Botticelli, Michelangelo, Giotto, Albrecht Dürer, Titian, Raphael, Caravaggio, Rubens, Velazquez, Rembrandt and other great painters. A special place in the museum occupies a Renaissance art.
In 2013, a survey of travelers conducted by the authoritative British «The Times», Uffizi took first place among the best galleries in the world. New halls Uffizi - new discoveries for art lovers, new opportunities for inclusion in the world of beauty, the world of beauty.
If you liked the news, tell your friends :)